Wildcrafted
in
Aotearoa
ACTIVIST Raw Mānuka Honey is wildcrafted in Aotearoa, New Zealand by bees that pollinate the native Mānuka Bush during a small seasonal window in the spring and summer. Mānuka Honey is a beautiful resource with considerably higher levels of enzymes and antibacterial properties than found in other honey. It is truly one of Mother Nature's special gifts to us. Our integrity and vision is that our honey is produced in small batches, therefore retaining Mānuka's value, active nutritional properties and plant enzymes.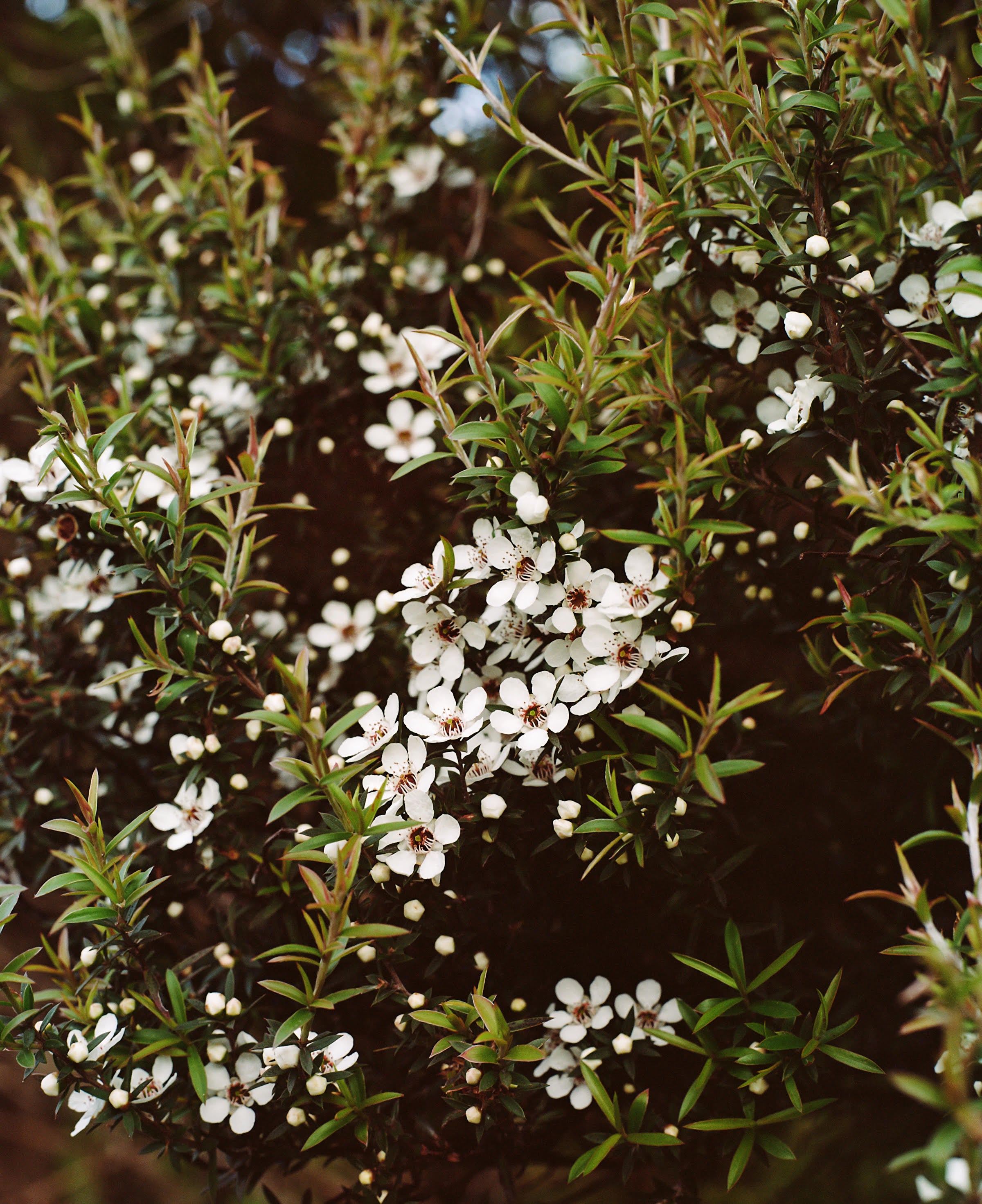 Why Mānuka?
Mānuka Honey is one of the most unique and beneficial forms of honey in the world. In 1981, researchers at the New Zealand University of Waikato discovered that Mānuka Honey has a considerably higher level of enzymes than regular honey and identified its active agent, methylglyoxal (MGO)—the concentration of which is widely measured in the industry to determine the potency of what's in the jar. These enzymes create a natural hydrogen peroxide that works as an antibacterial.

The literature makes it clear that Mānuka is no fringe therapy; along with anti-inflammatory effects, the honey has incredible value as a wound dressing—with efficacy even against antibiotic-resistant microbes. Mānuka Honey benefits are wide, including helping with digestive issues; low stomach acid; treating acne and eczema; combating Staph infections; treating burns, wounds and ulcers; preventing tooth decay and gingivitis; improving sore throats and immunity and helping with allergies. Mānuka Honey is a beautiful raw resource for using as a beauty and skincare product – our favorite way to use ACTIVIST is straight out of the jar for a nightly face mask and also as a face cleanser!
Benefits of Mānuka Honey
The methylglyoxal enzymes within the honey create a natural hydrogen peroxide that works as an antibacterial. Mānuka can soothe inflammation and pain, as well as, dress a wound at any stage. Lastly, it can stimulate wound healing time and repair white blood cells. A great way to utilize it is by making a poultice or compress, in which, you can infuse herbs like plantain or calendula for extra potency and soothing properties.

Mānuka is wonderful for supporting the natural digestive microbiome. Because low stomach acid can come from overgrowth of bacteria, Mānuka is a great way to rid your body of those pathogens and keep the digestion flowing properly. This is because it contains oligosaccharides, which have a prebiotic effect on the gut and promote the proliferation of good flora. In addition, the high antioxidant content has been found to be effective in the treatment of gastric and peptic ulcers, inflammatory bowel disease, colitis, dyspepsia, GERD, Staph infections, food poisoning and more. We eat is by the spoonful daily!

For someone looking to their keep teeth and gums healthy, Mānuka is the quintessential antidote. Because of its anti-bacterial and microbial properties, it can kill plaque and improve and prevent issues relating to tooth decay and gingivitis. It is great when used as a mouthwash or oil pull to remove toxins, especially for someone suffering from periodontal disease. It can easily be spread across gums and teeth, and since it's non-toxic, can actually be swallowed with saliva.

Mānuka has been proven to have efficacy against antibiotic-resistant microbes, promoting its healing powers against pathogens internally and externally. When sick, it improves sore throats, helps soothe coughs and improve common cold symptoms. Mānuka also helps people with acute sinus problems and allergies. We sometimes take a spoonful of raw Mānuka in the mornings when our hay fever begins to act up and gargle it with lightly warm salt water when our family has a sore throat.

Due to its anti-inflammatory properties, Mānuka has extraordinary healing properties for skin conditions. It can reduce redness and heal congested or inflamed skin such as eczema or psoriasis. Additionally, Mānuka can be used for its anti-bacterial properties on the skin by oxygenating pores, which can draw out or reduce the amount of bacteria on blemishes. This can drastically improve acne-prone skin. You can use Activist Mānuka Honey as an everyday face wash, direct spot treatment on acne or make a face mask and leave on for a set amount of time.

Living in a toxic, environmentally polluted world, we are subjected to toxins left and right. It is almost impossible to avoid absorbing them. This is why we must take extra care of our skin. These toxins that are present in the environment, become prevalent and visible on our skin. Mānuka is magical at repairing skin damage. It promotes skin regeneration, repairs cellular damage and lessens scarring. Just lather it on wherever you need and watch your skin transform.

Studies show that the Methylglyoxal found in Mānuka Honey has been shown to increase and protect the production of collagen in the skin, promoting structural growth and regrowth. Mānuka's amino acids harmonize perfectly the pH balance of our skin, helping us age gracefully. It is also extremely hydrating for the skin, helping to retain moisture, which is an important part of preventing and reducing fine lines. Mānuka can be taken internally or externally for this reason.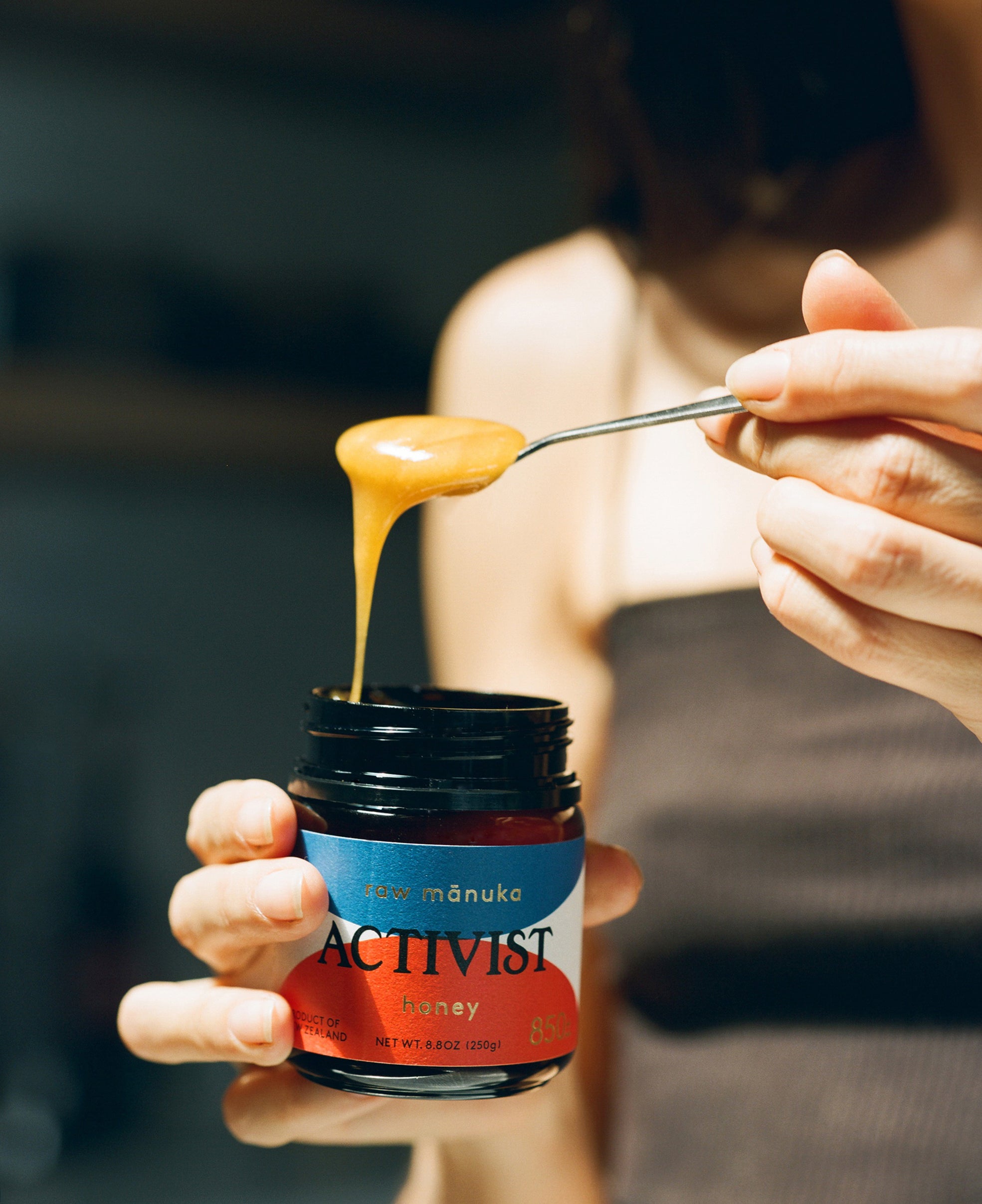 The Methylglyoxal (MGO) Certification is scientific, precise, and transparent — it leaves no room for misleading.
Leptospermum scoparium (commonly called Mānuka)
Mānuka, The beautiful wildflower native to Aotearoa New Zealand. Often referred to as the New Zealand Tea Tree, the Mānuka Plant is an evergreen shrub with white (occasionally pink) flowers. Its leaves are small with a short spine tip.

Leptospermum scoparium should not be confused with what is more commonly known as 'Tea Tree' (Melaleuca alternifolia), a plant native to Australia. Despite being from the same family (Myrtaceae family), Mānuka contains dihydroxyacetone whereas Melaleuca alternifolia does not. Dihydroxyacetone or DHA is a compound that is naturally occurring in Mānuka nectar. When bees create honey from this nectar, some of the DHA converts to Methylglyoxal (MGO). 

Depending on the year's climate and weather patterns of the Southern Hemisphere, Mānuka flowering starts at the beginning of spring at the top of the North Island of New Zealand and makes its way south. The flowering of Mānuka is a very short window ranging anywhere from two to six weeks of the year. Because of such a short window for the wild-crafting of our Mānuka Honey, the season is labor intensive, preparation for bee-health is crucial and no time is wasted when the Mānuka is flowering. Beyond the truly remarkable health benefits, this is also the reason that our genuine raw 'mono-floral' Mānuka Honey is special and rare.

Like a biodynamic wine, our Mānuka Honey's properties also change year to year on seasonal cycles. We celebrate this and it is reflected in our honey's taste, texture and color.
MGO Explained
MGO is both a measurement system and an abbreviation of Methylglyoxal. Methylglyoxal is an organic compound known for its antibacterial properties. 

The Methylglyoxal in Mānuka honey is converted from dihydroxyacetone (DHA) found in the nectar of the Mānuka flower. While the resulting Methylglyoxal is present in other honeys, the levels in Mānuka honey are 1,000 times higher. This conversion occurs over a period of time with the amount of Methylglyoxal (MGO) shown to increase when aged appropriately. 

The MGO scale is simple in the fact that it is testing and certifying for the amount of MGO = Methylglyoxal; which represents the active enzymes and health properties found in our Mānuka Honey. As an example our ACTIVIST 850+MGO represents that there is a minimum of 850mg of Methylglyoxal per KG tested and certified in our Mānuka Honey. It's very clean and simple and easy for our customers to understand. Each and everyone of our products is tested and certified in New Zealand and has this marking on our jar and label. Remember the higher the MGO the higher the potency and antibacterial effect. 

Read more: Mānuka Honey Grading & Measurement Systems
Genuine Article
ACTIVIST Raw Mānuka Honey is independently tested, certified and labeled in New Zealand under the New Zealand MPI Guidelines. New Zealand has strict guidelines in place which are set by the New Zealand Ministry of Primary Industries (MPI). Using the Methylglyoxal (MGO) grading system, MPI approved laboratories test and verify that the Mānuka Honey you are buying is authentic.




Non-GMO Project Verified
ACTIVIST Mānuka Honey is Non-GMO project verified. This is an independent certification that confirms our Mānuka Honey is free from genetically-modified organisms (GMOs).

Genetically modified organisms refer to any organism (plant, animal, bacterial & virus genes) whose DNA has been artificially modified. GMOs introduce organisms onto our planet that do not occur naturally.
Glyphosate Free
ACTIVIST Mānuka Honey is independently verified as glyphosate residue-free.

Glyphosate is a poison found in many common weed killers, sprays and pesticides which are making their way into generic table honeys today. To ensure our Mānuka Honey is free from glyphosate, we work closely with our beekeepers to make sure no chemical sprays are used on their land and hives are positioned in remote locations, far from any possible contamination of agricultural and urban toxins.
Ingestible and Topical Use
Mānuka Honey can be applied topically or it can be ingested, depending on your health concerns and the benefits you're trying to access. When utilizing Mānuka for its antibacterial or anti-inflammatory properties, the higher the concentration of Methylglyoxal (MGO rating) the more efficacious it will be.
Ingestible
The simplest way to tap into the benefits of Mānuka Honey is to consume it by the spoonful. 1 to 2 teaspoons per day directly in the mouth allow the active enzymes to be absorbed quickly, and remain undiluted. 

Mānuka is the ultimate superfood. In addition to Methylglyoxal, Mānuka contains a range of vitamins and minerals. Mānuka honey contains B Vitamins, Zinc, Calcium and Iron amongst others. 

Mānuka can be added to smoothies, tonics or your favorite tea. You can substitute Mānuka Honey for other sweeteners when cooking or baking. Ingesting Mānuka honey is safe for the entire family, apart from infants under the age of 12 months. If you have questions or concerns, consult your doctor for personalized medical advice.  

Topical
Mānuka is great to have on hand to aid in the treatment of burns or wounds. A thin layer of Mānuka honey can be applied directly to the skin at any stage of the wound healing process, using a sterile applicator. 

Mānuka is also used by Estheticians to soothe acne and other skin conditions such as Eczema and Dermatitis. When used for skincare, it can be used as a face mask, daily cleanser or spot treatment as needed. 

Applying Mānuka topically is safe for all ages and all skin types.
Limited Edition
The Ultimate
Uses:
Immune defence, sore throats, digestive health, beauty applications, face masks and skin irritations. Activist Raw Mānuka Honey 1000+MGO is The Ultimate! Hand-produced in small amounts making this a limited-edition offering; it has some of the highest concentration of Mānuka. Use thoughtfully and sparingly for internal and topical needs. Keep this in your beauty and medical cabinet.
Uses:
Immune defence, sore throats, digestive health, beauty applications, face masks and skin irritations. Activist Raw Mānuka Honey 850+MGO is rare and thoughtfully aged; full of antibacterial properties and active enzymes straight from Mother Nature. Best taken internally for daily immune-support and used topically for a 100% natural and hydrating face mask and skin cleanser.
Wellbeing
Antibacterial activity
Uses:
Immune defence, sore throat, digestive health, beauty applications, face masks and skin irritations. Activist Raw Mānuka Honey 300+MGO is our Wellbeing star; the perfect choice to incorporate into your daily lifestyle for proactive health benefits and immune support for the whole family (apart from infants under 12months of age). Add to superfood smoothies, tonic teas, juices and meals.
Multifunctional
Mild level of therapeutic benefit
Uses:
Activist Raw Mānuka Honey 100+MGO is a great multifunctional choice to sustain and satisfy all your daily needs from health to culinary or consume straight from the spoon. A great healthy addition to teas, baking, smoothies and meals. Enjoy this Mānuka Honey as part of an ongoing healthy and active lifestyle to support your overall wellbeing.
Culinary
Mild level of therapeutic benefit
Uses:
Surfer's Honey™ is a great option if you are looking for a high quality multi-functional honey with health benefits of a Mānuka component of 50+MGO. A beautiful thick floral honey, this is great for everyday use and the ultimate gift for loved ones, friends and surfers alike. Free of GMOs and large agricultural and urban toxins which are making their way into generic table honey today.